2017-2018 Lincoln PTA Executive Board
---
Huan Bell, President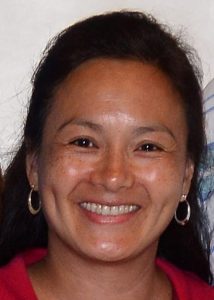 Huan has been a Lincoln parent for almost a decade, with current 4rd grader.  Huan has participated in many past CUSD initiatives and Lincoln programs.  Her involvement includes Kennedy PTA committees as well as sitting on the Lincoln PTA Board for the past 3 years.  She looks forward to working with our teacher and parent communities toward common goals.
---
Rochelle Chu, Executive Vice President

Rochelle has a first grader and an 9th grader now at Monta Vista High School.
She is excited to return to Lincoln, where she previously spent 5 years on the PTA Board and held numerous volunteer roles inside and outside the classroom, including Lincoln school lead of the "Their Future is Now" (TFIN) campaign in 2010, which united our community to raise more than $2 millionin 8 weeks to save teacher jobs and preserve small class sizes.
Rochelle is also on the PTA Board at Kennedy, and was most recently Vice President on the Board of Directors at Cupertino Co-op Nursery School.   She has a degree in Computer Science Engineering and previously worked in hi-tech for many years doing Technical Marketing / Program Management / Business Development.
 Rochelle believes strongly in the importance of parental involvement in schools to help build and sustain a great community, and is looking forward to serving on the PTA once again and making a difference!
---
Peggy Lee, Secretary

Peggy has been a Lincoln parent for 10 years, with a current 4th grader and a Sophomore at Monta Vista. She's an active parent, volunteering her time in the classrooms and PTA sponsored events for the last decade. She looks forward to continue building a strong working relationship among teachers, school staff, and parents.
---
Hui (Whitney) Yang, Treasurer

This is Hui's 3rd year in Lincoln. She has two children: her daughter is in 2nd grade and her son recently graduated Monta Vista High School. She has volunteered in her children's schools for many years.
In Lincoln she enjoys volunteering in the classroom, yard-duty in the school regularly and many PTA and school events. She also serves as a financial assistant in LEEF organization.
Hui works part-time as a Chinese teacher in Shuangshuang Chinese School. 
---
Jerry Liu, Financial Secretary
Jerry is the father of a 4th grader at Lincoln Elementary and also has a 6th grader at Kennedy Middle School. He servers on the Cupertino Planning Commission and is the President of the Cupertino Library Foundation. Professionally, he is a research manager at HP Labs directing technology development programs.
---
John Ling, Historian

Bio Coming Soon
---
Cynthia Tsuchida, Auditor

Cynthia has lived in the Sunnyvale/Cupertino community for over 30 years and attended Cherry Chase Elementary, Sunnyvale Junior High and Fremont High School.  As a math graduate of UC Berkeley, she works full time as a Pension Actuary.
Cynthia currently has a 2nd grader at Lincoln and 6th grader at Kennedy Middle School.  She loves working with children and has been involved as a room mom, field trip chaperone, book fair volunteer and nominating committee member.  Cynthia looks forward to working with the Lincoln Community to continue to enhance the student experience at Lincoln.
---
To view more detailed descriptions for each position, please click here