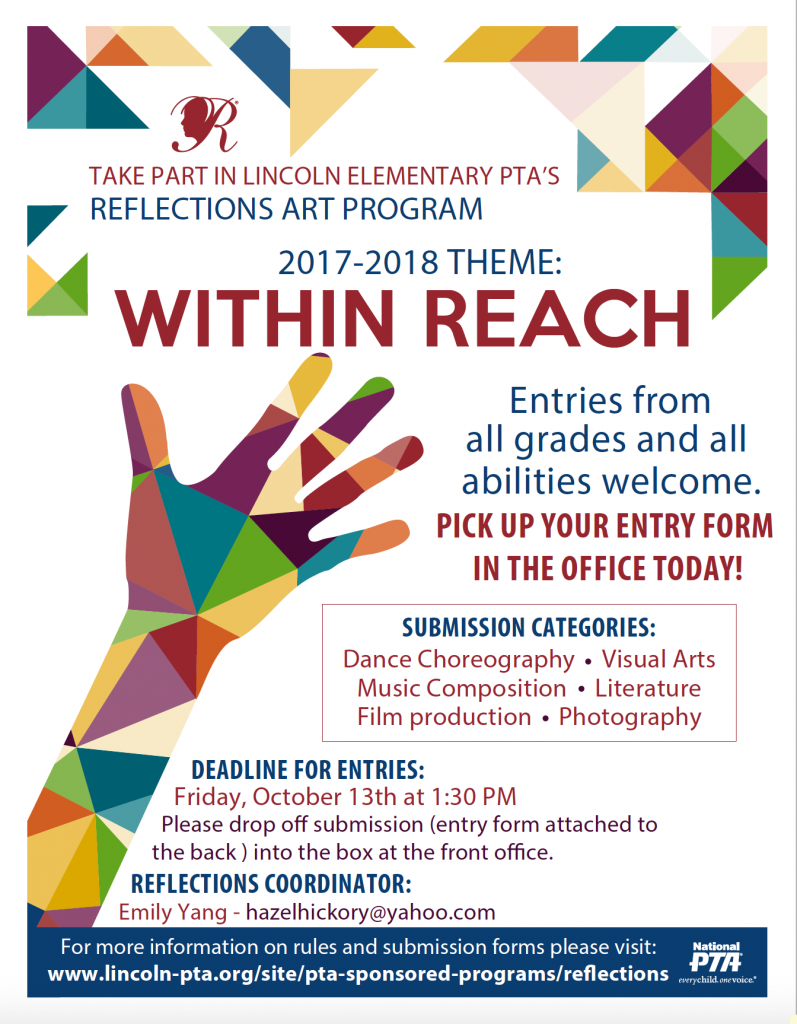 Forms:
Student Eligibility
Participation in the California Reflections Program is open to all students attending PTA schools that sponsor the program.
Art Areas (6)
To get involved, students submit an original piece, inspired by the annual theme, for their school's Reflections Program in any of following arts areas:
Dance Choreography
Film Production
Literature
Music Composition
Photography
Visual Arts
Divisions (5)
To allow student artworks to be recognized and judged with the appropriate developmental age and skill levels in mind, the Reflections Program is organized by school grade, offering 4 divisions:
Primary – Preschool-Grade 2
Intermediate – Grades 3-5
Middle/Junior – Grades 6-8
Senior – Grades 9-12
Reflections Program Levels
Reflections is a nation-wide arts appreciation and recognition program for students sponsored by National PTA.
To take part, student Reflections' entries at a school are first recognized, judged and celebrated by the local PTA unit.
Some selected unit entries are then chosen to represent the PTA at the council and district PTA levels.
Student artwork submitted to California State PTA by a district PTA will be considered for an Award of Excellence and an Award of Merit.
California State PTA Reflections Awards
Each year, 30 students are recognized with a California State PTA Award of Excellence for their artwork and receive:
Opportunity to showcase and perform their artwork at the California State PTA convention
Prizes including an Award of Excellence medal, certificate and $100 Savings Bond presented on stage at convention
Expense paid trip for award-winning student and 1 parent/guardian to California State PTA convention
These Award of Excellence entries, in turn, represent California Sate PTA at the National level of the Reflections Program.
Student recipients of the National PTA Award of Excellence and Award of Merit are recognized at the annual National PTA convention and their artwork is featured as part of the program's traveling, national exhibit.
For More Information on our Reflections Program please visit: