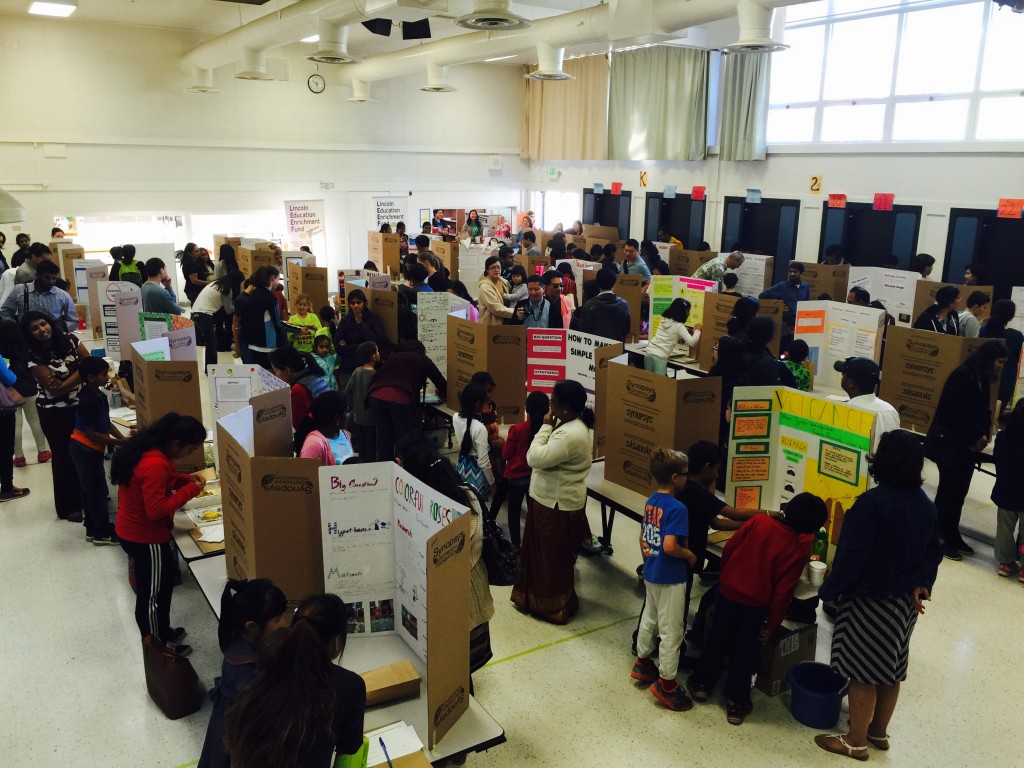 Welcome to the 2017 Lincoln Science Fair!
The Lincoln Science Fair is an event designed to foster students' curiosity and excitement for the Sciences while learning about experimentation and discovery through the Scientific Method.

Due to space constraints and the academic benefits of collaborative work, especially within the scope of the Common Core State Standards, partner or group projects are highly encouraged.  Please limit group size to four or fewer children within same grade.

Showcases will be held in the Lincoln Elementary MP room.  All planning, research and presentations displays must be done by the students at recess, lunch or during non-school hours.

The Science Fair Showcase Exhibits will be open to family and friends from 5:30 to 7:00 p.m. on the following dates:
Grades 1 and 2 on Tuesday, March 7, 2017

Grades 3 and 4 on Wednesday, March 8, 2017

Grade 5 on Thursday, March 9, 2017
Getting Started!
Step 1: Decide if you want to do your science project yourself or with a group of friends. (You can have up to four students per group; all group members must be from the same grade level.)
Step 2: Think of an idea or formulate a question.  See some tips here.
Step 3: Do some preliminary research and create a hypothesis. See the Scientific Method guidelines. 
Step 4: Create your Science Fair Project Proposal and submit it online by Friday, February 10, 2017. 
Step 5: We are happy to announce that this year all projects (individual or team) will get a display board donated by Synopsis Outreach Foundation.
Step 6: Complete your research and make a conclusion.
Step 7: Create an exhibit display of your project.  See display guidelines and restrictions. 
Step 8: Exhibit your work!
NOTE FOR PARTICIPANTS OF PREVIOUS SCIENCE FAIRS: we have a simplified registration process this year.  The registration is completely online – no more paper forms!  Also, we will not be requiring project approvals before the students proceed with the project.  During the registration process, students will be asked to acknowledge and accept five restrictions designed to prevent unsafe project exhibits.
Important Dates and Deadlines!
February 10th, 2017: Last Day to REGISTER.
February 17th, 2017: Student will receive display board in the classroom.
Tuesday, March 7, 2017: Grades 1 and 2 Fair (setup – 8:00 am to 8:55 am, science fair – 5:30 pm to 7:00 pm)
Wednesday, March 8, 2017: Grades 3 and 4 Fair  (setup – 8:00 am to 8:55 am, science fair – 5:30 pm to 7:00 pm)
Thursday, March 9, 2017: Grade 5 Fair (setup – 8:00 am to 8:55 am, science fair – 5:30 pm to 7:00 pm)
Can You Volunteer?
As you know, the Lincoln Elementary Science Fair is run purely by parent volunteers, many of whom are active in other PTA activities as well.  Help support your child(ren) and the school in ensuring the success of this annual event by volunteering! Positions are available if you have a lot of time or a little…
To volunteer, please click here to visit the Lincoln PTA Volunteer Signup.

Registration
Science Fair registration is closed.
Questions?  Please email the Science Fair committee at sciencefair@lincoln-pta.org
Rules
2016 Rules_ categories

Download PDF here.